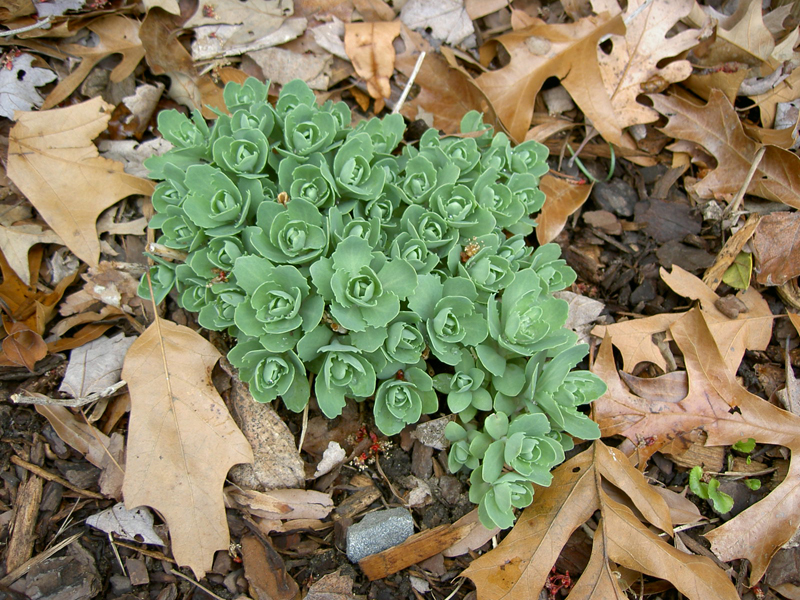 Sedum by the south fence.
I was happy to see that the sedum wasn't at all hurt by being moved a foot to the west last year. I discovered it popping up under the rose bush along the far part of the south fence when I was clearing that area of vines. When I transplanted the peonies gifted to us by our neighbors I also moved the sedum to give both it and the rose bush some root room. The clump is a lovely splash of green back there now that I've cleared the fall's leaf cover off of that bed, and it could probably be separated in two without hurting its overall growth. I have a small bit in the front bed, and I wouldn't mind moving a larger bunch to the front. Herbaceous perennials are kind of a weird mystery to me, one of the neater forms plants take. I mean, they die off, right? And then they grow back. It's pretty cool.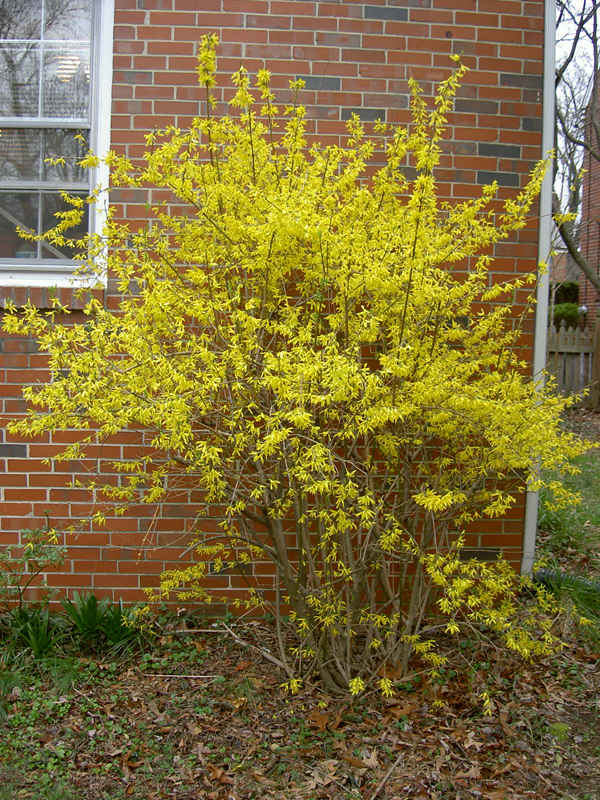 The forsythia bush at the back of our house, in full bloom.
This year I'm making a concerted effort to take photos of the shrubs and trees as they bloom. Partly for my own cataloguing effort, but also to have a reminder of what the yard looks like at various points through the year as I'm planning new additions or relocations. The forsythia is a particularly striking bush; set against the rear of the house it gets the setting afternoon sun and positively glows. Sadly, it is a plant that I'd never encountered before moving out here and appear to be specifically allergic to. Last year's experiment with bringing in a striking array of cut branches for the dining room ended with a lot of sneezing and a lovely arrangement greeting visitors on the porch. This year I'm admiring them from afar and remembering to keep the window closed. The sheer volume of pollen from the pear and cherry trees in bloom in our town leads me to strive to keep the windows closed anyway, which is hard this time of year as the weather is just starting to get lovely and cool.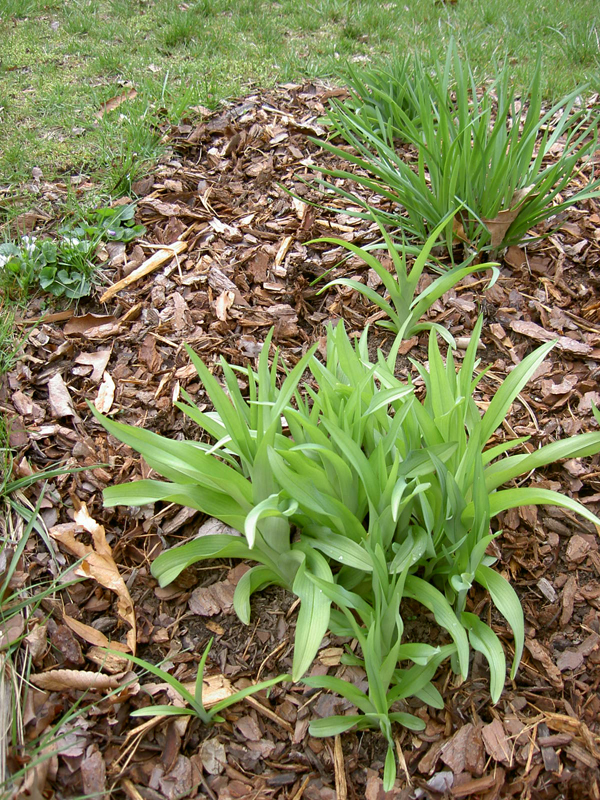 Front to back: orange daylilies, garlic chives, and yellow daylilies, with variegated violets off to the left side.
And, it's amazing what a difference two weeks makes! The front bed is growing like crazy, and we haven't had all that much rain. It's supposed to be quite wet this weekend, though, so I'm sure that they'll sprout up even more. I look forward to seeing even more violets come into flower; I love the look of the scattered throughout the front lawn. In terms of work I did in the garden this week, rather than work the plants did for themselves, I pruned the deadwood out of our neighbor's cherry tree that abuts our house. It's a lovely old weeping cherry, but it's in close competition with several large maples for sunlight and it had a few large limbs that needed to be removed. I'm hopeful that I got to them early enough that the tree will start to believe it's not actually dying and send up some new sprouts to balance out its lean. Even if it doesn't, cutting deadwood out of fruit trees is one of my favorite gardening activities. Seriously, it is. It's my favorite thing to do at the farm and I've gladly applied that experience to the trees around our property here.
Finally, I rescued from ivy strangulation and relocated to the front bed the last of the daylilies that were growing up along the alley at the back of our yard. There are still some along the back of our neighbor's fence, but I plan to just pull the ivy up and mulch around those. I'm sure that with a little encouragement they'll fill out to make a nice drift; he has a double lot with his garage off the street, so the alley facing is long and unbroken. First things first, though: killing the ivy in my own yard is of highest priority!