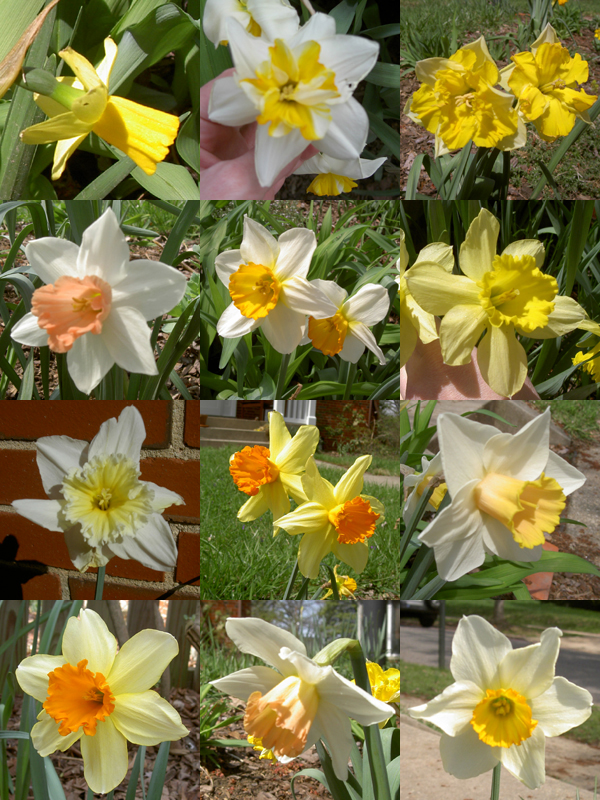 The varieties of daffodils that bloomed in March and April, mostly unidentified.
A friend of ours acquired so many spring bulbs with the house they purchased that every time she wants to move or remove or plant something in her yard, she unearths dozens of bulbs. Since other parts of the yard are invariably already full of bulbs, she's been offering them to me. As I'm a softie who can't say no to free plants, especially flowers, I most recently accepted about 100 daffodil plants of various kinds. Yes, we know you're not supposed to divide them in the spring, but the ones that had buds have all opened into flowers (many while the they were still in the bucket waiting to get a place in the ground).
Our yard started with just a couple of clumps of plain yellow daffodils (most likely King Alfred, an extremely common regular yellow trumpet variety) next to the front steps. I would have sworn that we had a jonquil pop up in that bed a few years ago, but I haven't seen it since and don't know which bulb it might have been from (there are a few that have only been foliage since I moved them around two years ago). I also unearthed a number of narcissus along the back fence while weeding, which I moved into the lamppost bed two years ago, but they have yet to bloom (although one did produce a bud this year, so I'm eagerly awaiting its flowering). Because I'm really only gardening in the front until we replace the fence in the back, I have been hesitant to attempt anything like a plan involving spring bulbs. However, I dove in once I had a bucket of plants sitting around waiting for action!
In the end, most of the plants went into the front sidewalk bed. I used the smaller varieties—a true dwarf yellow trumpet daffodil and an 8″ (or so) yellow non-trumpet daffodil where the part that should be the trumpet is a flat ruffle on top of the outer petals—to create a thick border row along the bottom of the bed below the line of orange daylilies. This is where I attempted to introduce carpet phlox last year, with no success at all; it was far too shady once the daylilies came in and the phlox all died. I am more hopeful about this new plan, as Christopher Lloyd specifically recommends interplanting with daylilies, as the foliage of the later plants grows up and hides the dying foliage of the daffodils (about which he is otherwise fairly disdainful). Seems reasonable. In addition to that row, I planted several clumps in the empty spots left by the demise of the creeping sedum I'd introduced several years ago (one regular sized yellow daffodil with a fairly bright orange trumpet, one regular height slender yellow daffodil with a more muted soft orange narrow trumpet which might be the Jetfire variety, and a clump of the aforementioned flat ruffled soft yellow type).
Once I'd basically filled that bed with daffodils, I was left with only a gazillion more to put in other parts o the yard. I planted four clumps of Ice Follies (the one variety I could conclusively identify!) under and in front of and in between the various azaleas in the yard, with a couple more clumps of the shorter varieties interspersed (most likely the flat ruffled kind). I then gave away 20 or so plants and bulbs to another neighbor. And have not yet started to find places for the tulip bulbs (I'm thinking a fair number can go into the spot in the front foundation bed where the poker primrose didn't survive).
I will say that the front looks quite cheery with all the yellow and white and orange blooming this early. I'm curious to see how it looks next year, and whether the masking effect of the daylilies works as advertised. When my partner returns later this week with the digital camera, I'll try to get a photo of each of the different blooms. In the meantime, I need to train a climbing rose up a pyramid trellis and move a few perennials around. Yes, this is the year of sitting back and watching things grow. Can't you tell?