Apples!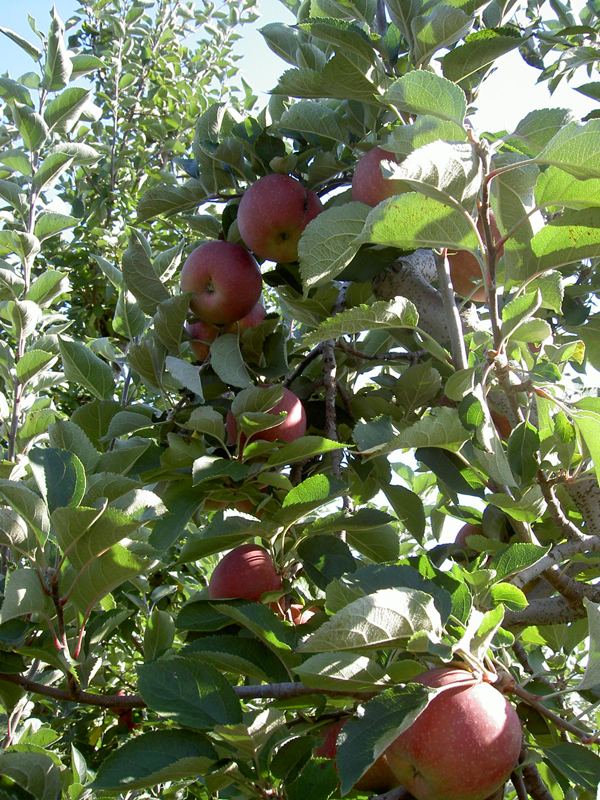 All the best ones are out of reach.
Last weekend we drove up to Larriland Farm in Howard County to pick apples. I remember picking apples as a kid, but it wasn't something we did every year. What I don't remember is what we did with all the apples we brought home! We discovered this year that it's easy to fill up on apples quickly when each of you have a bag that holds 15 to 20 pounds and there are rows and rows of trees before you. In retrospect, it's hard to believe that I was nervous there wouldn't be enough: we could have filled our entire car and not made a noticeable dent in the orchard's bounty. We also brought home beets, spinach, and more pie pumpkins, again taking only the smallest portion of what they had available.
After much deliberation we decided to pick only two of the three varieties available, Stayman and Braeburn (my two favorite kinds, which weighed heavily in the decision-making process). I like tart crisp apples, which I've learned are typically late-season apples. My partner eats apples with his lunch, sometimes two or three per day during local apple season. The smaller and slightly more sweet Braeburn were designated for that purpose, leaving me with about 15 pounds of Stayman apples to use as I wished. After making a couple of the requisite pies — my usual contribution to dinners where we're the guests — I decided to put some of them up in jars for use later in the winter. To round out the firm apples with some that would mush up — that's a technical term — when cooked, I picked up some Empire from my regular farmers' market suppliers, the folks at Harris Orchard.
In an effort to use some of the interesting quart jars I received this summer — some of which are nearly antiques as they'd been collected from estate sales over the years — I started with pie filling. Not only have I never canned pie filling before, I've never made a pie from canned filling, so this was a new experience all around. I found a recipe online, cleaned and sterilized the jars, and started processing the apples using the handy peeler-corer-slicer I bought with our one of our last lingering wedding gift cards. (As an aside, I have been happily using all of the kitchen items we've received as gifts; having the proper tools and large enough bowls makes cooking all of our meals every day so much more enjoyable!) Of course, things didn't go entirely smoothly: I didn't peel enough apples initially, and had to conscript my partner to do that while I kept the sauce from scorching and the quart jars were a tight squeeze in my stockpot, as I have a bit of a rigged up water-bath setup. Everything seems to have turned out fine, though. Only one of the jars didn't seal, so I stuck it in the fridge to be the test pie in a couple of weeks. I'm considering giving the pie filling as gifts to a couple of people (shh, don't tell!) and want to be sure that it makes a decent pie before doing so.
Next up: applesauce. I'm sure that the combination of fewer ingredients and smaller jars will make me feel like a canning pro.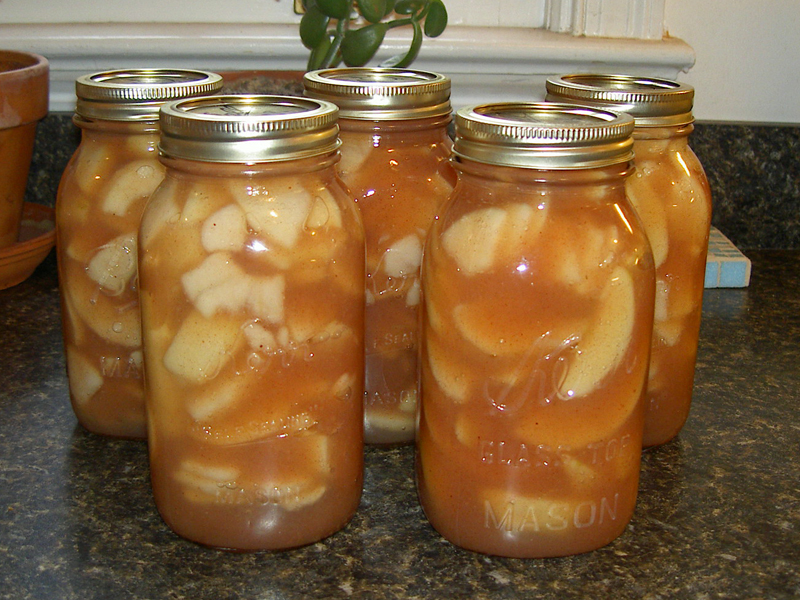 The finished product.