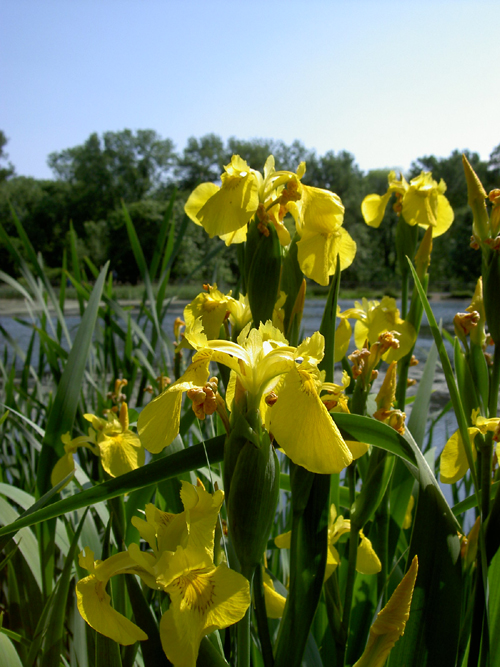 Wild yellow irises along the pond bank.
On Sunday afternoon, I took my recently repaired and returned to me babycam up to the University Hills pond. This past week irises have popped into bloom all around the banks of the pond, which pleases me greatly. Irises are my favorite flower, and yellow is my favorite color, so I couldn't have asked for a nicer development.
Besides the appearance of the flowers, things at the pond have been pretty status quo. The goslings haven't hatched yet, and the two ducklings are nearly doubling in size each time I spot them. I've seen a couple of interesting birds—a female Ruby-throated Hummingbird visiting the irises and a Red-shouldered Hawk circling above the trees—but no new life ones. I've continued to see plenty of turtles on each visit, ranging from the large Eastern Redbelly Turtles sunning themselves out in the water to the small Musk and Mud Turtles, one of which I surprised at the edge of the reeds. And, every now and then I catch sight of a Bullfrog, but I have yet to spot any other frog species. I suspect the bullfrogs have totally colonized the place, and being cannibalistic bullies, they don't coexist peacefully with many others.
No sign yet of the Snapping Turtle I saw there last summer, but I keep looking!