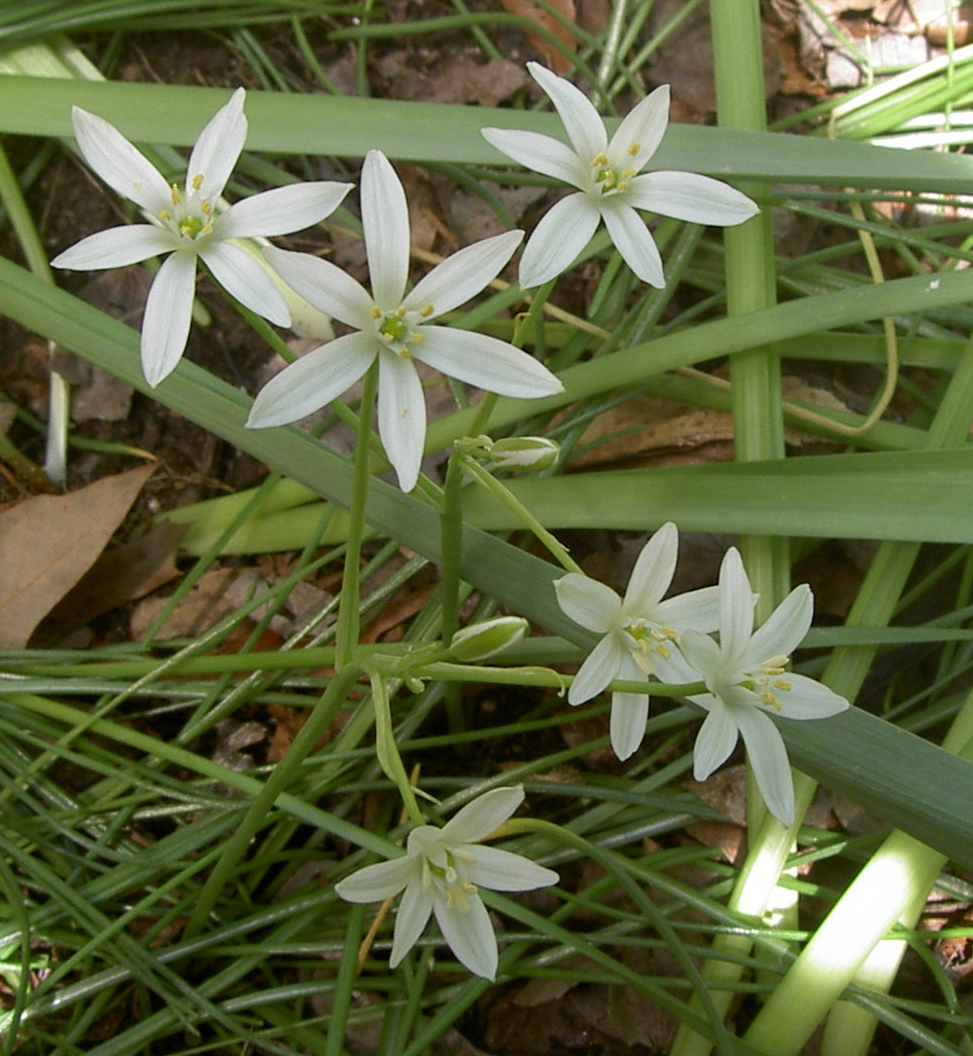 White mystery flowers.
There are these little white flowers that spring up all over our neighborhood in late spring. For a long time I thought they were spring star flower; now that I've received some ipheion from a neighbor I can see they're different. I now believe they are zephyr lilies, however the most commonly described variety appears to be only one flower per bulb without branching stems and are listed as blooming in autumn. They could be a native regional variety in the same family; I haven't been able to tell from photos whether this variety has a branching stem, although the habitat description certainly fits with our town. At any rate, I moved several clumps of them out of the lawn last year and into the small bed with the daffodils, on the right side of the porch steps. Only two bulbs sent up flowers but the greenery did quite well; as with the crocuses, I'm hoping to get many more flowers next year.
In addition to puzzling over these little white flowers, I spent some time this weekend transplanting perennial lilies from my neighbor's front foundation beds. The folks who owned the house before her planted hundreds of spring bulbs through their flower beds a couple of years ago, and the lilies in particular are now coming up everywhere. True lilies are not my favorite flower—I find the scent overpowering—however, in the spirit of providing a refuge for the neighbors' flowers, I took some and planted them along the back fence behind the peonies. Of course, as soon as I had them in the ground I became paranoid that they would bring black mold with them that would destroy the carefully nurtured peonies just as they're ready to flower for the first time. This is the life of a novice gardener; never being quite sure that what you're doing is really the best thing for the plants, always fearing that you've missed some crucial piece of information in the one gardening book you chose not to consult. In this case, nurturing the peonies has meant weeding around them, clearing the mulch off the crowns in early spring, and otherwise leaving them completely to their own devices. I'm sure it will be fine, and I can always resort to spraying toxins if things get completely out of hand. Not that I'm likely to go that route, but it sometimes helps to remind myself that the nuclear option is there, anchoring the other end of the continuum.
While I was busy moving lilies, my partner was hard at work removing stumps. You may remember that we are still in pioneer mode when it comes to the beds in the backyard, dedicating enormous amounts of time, energy, and sweat to clearing the various sapling stumps, pricker bushes, grapevines, English ivy, liriope, violets, Virginia creeper, and last but certainly not least, poison ivy. The way that works is that we work together with the spade to clear several yards of ground of anything that can be easily dug out, and then my partner spends hours toiling alone with the landscape bar and the tree saw to uproot the pricker bushes and tree stumps. Sometimes we invite friends over for this process, have a beer afterwards, and call it a party. Last weekend it was just us, and it was only the two stumps; nothing like two years ago when we did battle with the pokeweeds for what seemed like months and was really just days. As it has been every year, my goal is to have the side beds cleared of weeds and under mulch by the first frost. Why give it up? It's a good goal!
We all have to have something to strive for, and my something is a yard bordered by flat brown stretches of bark chips. When that day finally arrives, I'll be glad to move on to a goal involving actual plants. For now, the front yard is where I am able to fulfill my desire to have living, growing, flowering plants, and I let the backyard be where the killing happens.