I didn't know about the Can Jam challenge until December, and it's probably for the best: there's no way I could have canned anything more than the three things I made last year. Reading through Local Kitchen's summary of the challenge was interesting, though, as I realized that I've canned something in nearly every category at least once. Just for the heck of it, I sorted through my canning results of the past few years to see how they matched up to the challenge categories. In the process, I discovered that I was truly woeful at documenting the vast majority of these efforts, so I've annotated the list somewhat. I'm definitely not at the stage of making up my own recipes, so I'm excited to get back in the swing of things this year and try some of the hundreds of mouth-watering recipes generated by folks who actually participated in the challenge.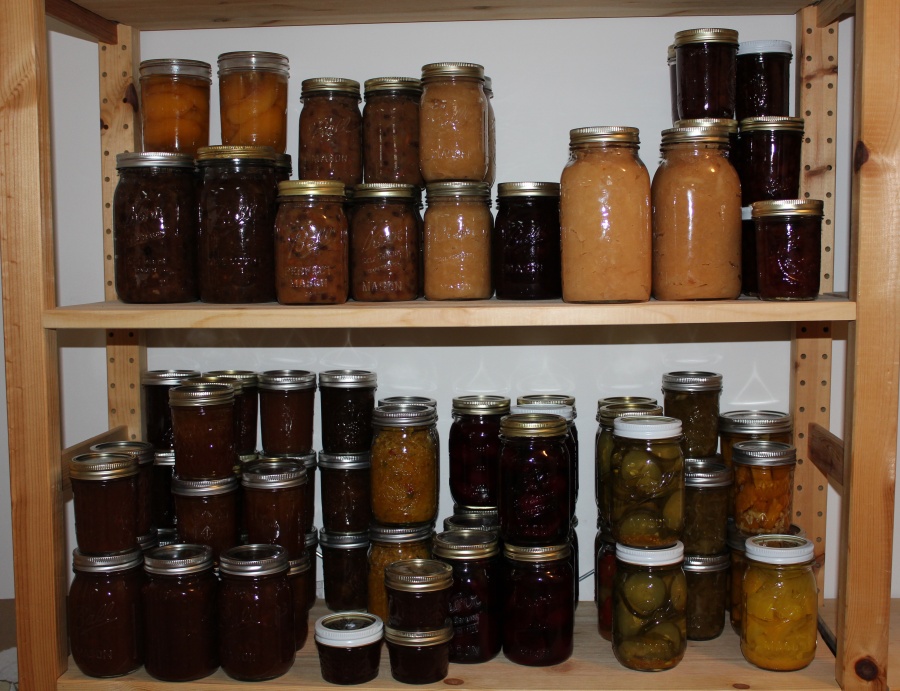 The canning larder. Top shelf: mincemeat, brandied peaches, pear mincemeat, pear applesauce, cranberry sauce, applesauce, cherry sauce. Bottom shelf: cherry conserve, quince jelly, apple butter, plum jam, pear jam, pear butter, apple chutney, onion relish, pepper jelly, pickled beets, lemon-garlic pickles, bread and butters, sweet and sour relish, pickled pumpkin, summer squash pickles.
Canning goals for 2011 include blueberry jam and more spaghetti sauce, in addition to the usual apple suspects. Plus whatever else looks absolutely irresistible from the Can Jam entries!