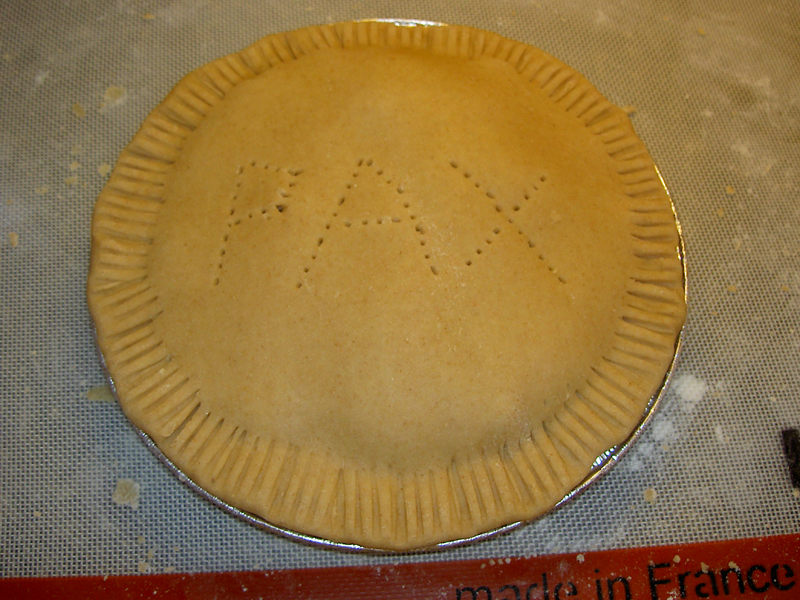 The first pie before it went into the oven (after which it didn't last long enough for more pictures!).
In preparation for hosting our family Christmas this year, I baked and froze two tourtières for Christmas Eve. Although the pies are the traditional French-Canadian Christmas Eve meal, and I am in fact French-Canadian, I mostly remember them as a feature of my Irish and British grandparents' celebrations. Which could simply be because that's usually where we spent Christmas Eve.
At any rate, I grew up with tourtière that included potato (sacre bleu!) and therefore had to do quite a bit of research on the internets in order to find a recipe that suited. In the end, I cobbled together two recipes—a plain version from French Kitchen in America and a 'pâté à la viande' with potato from Micheline Mongrain-Dontigny's website—and tweaked them to my own tastes. Since we had ground venison, I included it and added slightly more garlic and spices to make sure the pies didn't taste gamy.
Christmas Eve Tourtière (makes 2 pies)

Filling
2 lbs ground pork
1 lb ground venison*
2 large onions, minced
2-4 cloves garlic, minced
2 medium potatoes, peeled
1/2 to 1 c hot water
1/2 tsp dry (ground) mustard
1/2 tsp pepper
1/2 tsp ground clove (optional)
1/2 tsp ground cinnamon (optional)
dash allspice
dash nutmeg
salt to taste
1-2 eggs

*Can be made with all pork.

In a small pot, cover the potatoes with water and boil until soft. Remove from heat and mash coarsely.

In a large skillet or heavy-bottomed pot, brown the meat over medium heat with no oil. Mince the onions and garlic in a food processor, add to the browned meat, and cook over medium heat until soft. Add the mashed potatoes, spices, and enough water to keep everything from sticking and make the consistency that of a thick sauce. Salt to taste and remove from heat.

Cool the filling completely; it may be made ahead and refrigerated 1-2 days. Just before assembling the pies, allow the filling to come to room temperature and mix in at least one egg to help it hold together in the pie.

Crust*
3/4 c white flour
1/2 c white whole wheat flour**
1/2 tsp sugar
1/2 tsp salt
1 stick (8 tbsp) very cold unsalted butter (straight from the freezer is best)
2-4 tbsp ice water

*Four crusts are required for this recipe; I prefer to make them one at a time, as a double recipe is a bit large for my food processor.
**Can be made with all white flour.

In a food processor, combine flour, sugar, and salt and pulse a few times to mix. Cut the cold butter into 1/2 inch cubes, add to the flour mixture, and process until the mixture is coarse contains no butter pieces larger than a pea. Add ice water one tablespoon at a time, processing thoroughly between each addition. After the second or third tablespoon, the dough should appear wet and begin to clump up. Process until the dough is balling up, and then turn out onto a floured surface. Shape the dough into a disc, and then roll out immediately (if the butter and water were not cold enough, the dough may need to firm up in the fridge).

Assembly & Baking
Line two pie tins with crust—I used disposable aluminum ones since I was freezing the pies—and trim the excess dough with a sharp knife. Divide the meat mixture between the two pans, filling the pans to level or slightly mounded in the center. Cover with another crust, trimming the excess crust with a small knife. Seal the pie by turning the edges under, so that the top crust is against the pie plate, and pressing the circumference with a fork. Brush the tops of the pies with egg wash (1 egg beaten with cold water), and cut slits for steam with a sharp knife.

Bake at 350F for 45-60 minutes, until crust is lightly browned and loses its wet appearance and filling is steaming.

To freeze, allow to cool completely. Freeze to hardness on a tray, and then wrap in foil and place each pie in a ziploc bag. To reheat, bake at 350F for 30 minutes and then at 375F for 30-45 minutes, until filling is steaming and a knife inserted into the middle of the pie feels warm.
The end result was very moist (in a good way), although a few eaters voted for less cinnamon. I went with spices because I was concerned about the venison, and in the future I think I'll make at least one plain pork pie with minimal spicing. Two pies were just enough to get the six of us through Christmas Eve dinner—accompanied by lentil soup, my uncle's mild chili sauce, our farmer's Garlic Fire Sauce, and homemade pickled beets—and lunches on Christmas Day, Boxing Day, and the day everyone drove home. Even with the spices, they were good enough that I'm eyeing the remaining ground pork in the freezer and wondering if I can justify making another pork pie with all-butter pâte brisée crust before next Christmas. Probably not.