Now that the sprout is nearly two, we are starting to get invited to birthday parties. He has no concept of time or numbers as related to age, but he's all over making cards for people, going to parties, and belting out "HAPPY BIRTHDAY!" In this light, I decided to go the whole nine yards for my partner's birthday, with frosted layer cake, candles, and singing, instead of just the basic dinner plus presents that we've done in the past. The only and biggest catch is the need for the cake to be dairy- and gluten-free, since just not giving any to the sprout is no longer an option as he demands to try any and all food he sees and doesn't recognize. (We tried to put him off by telling him the cookie was yucky, which just made him request to "eat yucky cookie, please.") Since his own birthday is coming up next month, I thought this was a good opportunity to figure out if gluten-free dairy-free cake is even edible before foisting it on a passel of toddlers and their unsuspecting parents.
First up: decide which flavor I'm making. Red velvet would have been my first choice, except that my partner doesn't love it (and it is his birthday), it's full of cocoa and therefore caffeine (making it not terribly kid friendly), and I'm pretty doubtful that my beet-based food dye is going to be able to achieve anything like the ideal. So that's out. Chocolate is out for reasons of caffeine, and yellow cake with vanilla frosting is just too white cake for me, despite being my partner's first choice and totally fine for a toddler. Also, I was a bit concerned about the overly ricey flavor of white cake based on my experience with the pie crust and wanted a stronger flavor to mask it. So, yellow cake with chocolate frosting it was. (Recipe from The Allergen-Free Baker's Handbook, of course.)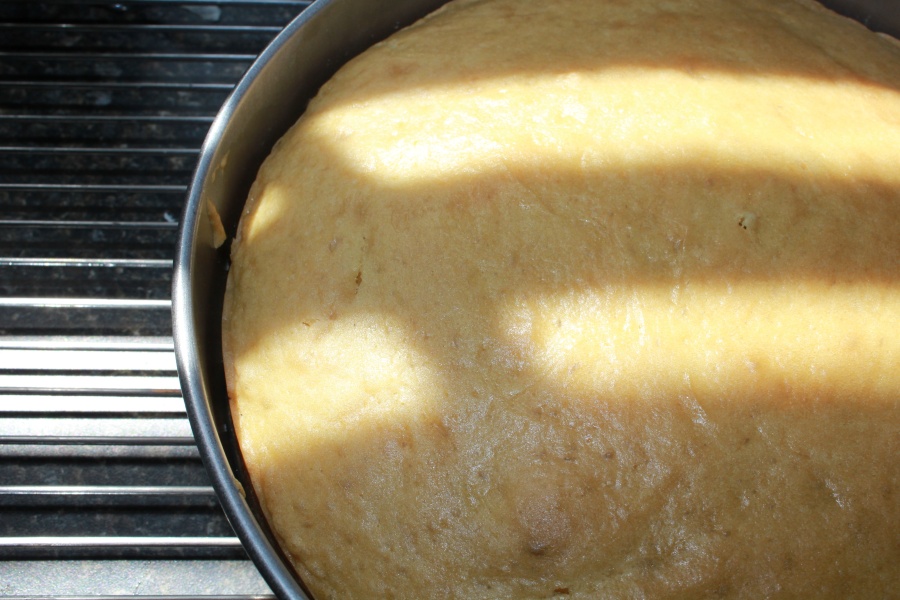 Yellow cake in the pan.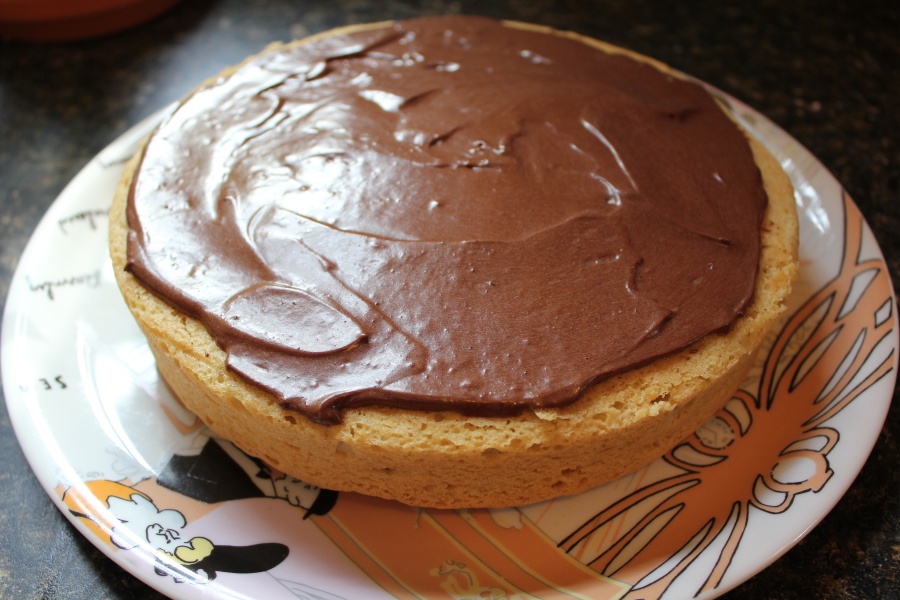 First layer frosted.
Baking the cake was a bit nerve-wracking since I don't typically bake cakes. I don't typically bake cakes because they make me nervous, all the possibility for not rising and sticking and cracking and whatever else cakes do that they're not supposed to. However, I can either pay approximately a million dollars for a gluten/dairy/soy/dye-free birthday cake or I can make one, so I did.
Once the cakes were baked, removed from the pan, and cooled without a hitch, I was facing the frosting part. Frosting is another thing I don't do, mostly because I didn't own a mixer of any kind until I acquired a hand mixer a few years ago. Making frosting without a mixer is a miserable experience that I suffered through once a year for the sake of holiday roll cookies, but not something I'd ever voluntarily undertake. Yet here we are! Frosting mixed up well and after a quick consult with the "how to frost a cake" section in Mark Bittman's How to Cook Everything I was ready to go. And, it went surprisingly well. Except for the part about how I didn't trim the cakes to make the flat (Less cake? No way!) so the whole thing was a little like the leaning tower of cake. Not enough to matter, though, and I'm sure other people didn't even notice.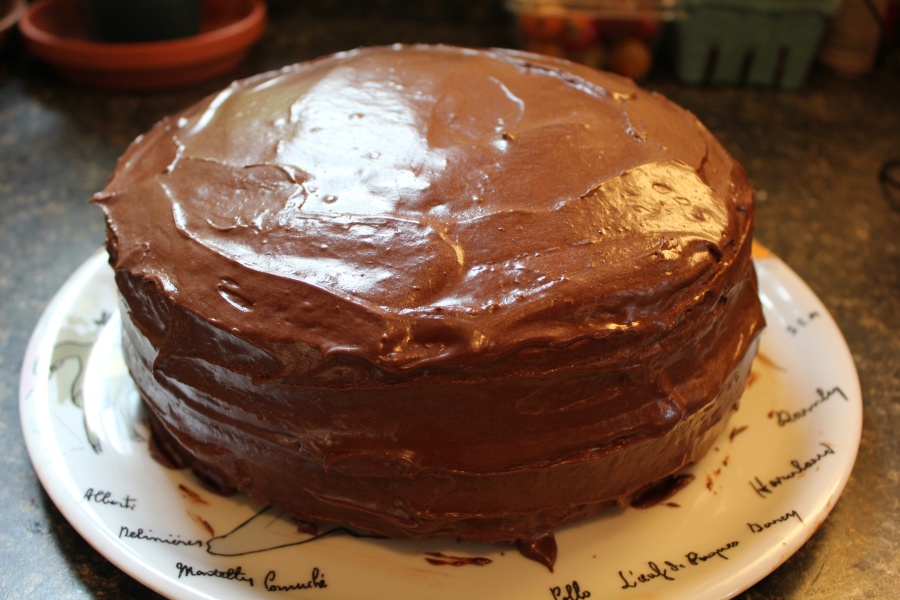 Slightly tilting layer cake successfully frosted.
Last but definitely not least was the matter of taste. We had two friends on hand to give us the brutal truth about taste. Clearly the birthday boy, the baker, and the toddler were going to eat the cake no matter what, so we needed to consult impartial judges. My partner and I both agreed that it tasted a little ricey, but not impossibly so and the chocolate went a long way to cut that. Our friend asserted that it tasted "like cake" which was a completely acceptable response. Friends who were offered Round 2 of the cake the next day did think it tasted a little "malty," which was probably the rice plus vanilla plus soy yogurt; next time I'll use vanilla yogurt or just try the sheep's milk yogurt and see how the sprout reacts. This time, though, it was pronounced good enough for next month's toddler party. Success!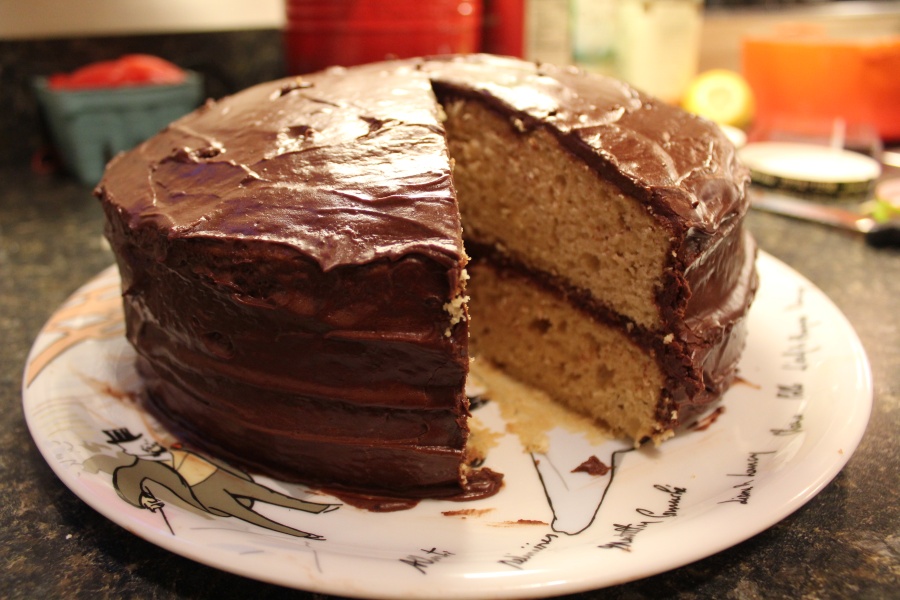 First piece to the birthday boy.