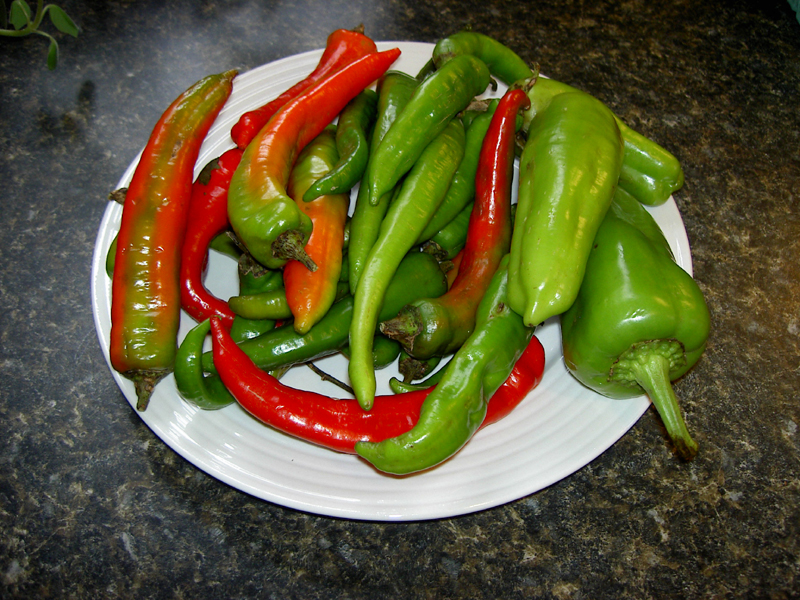 Peppers! The last vestiges of summer, Italian sweet peppers and Cubanelles.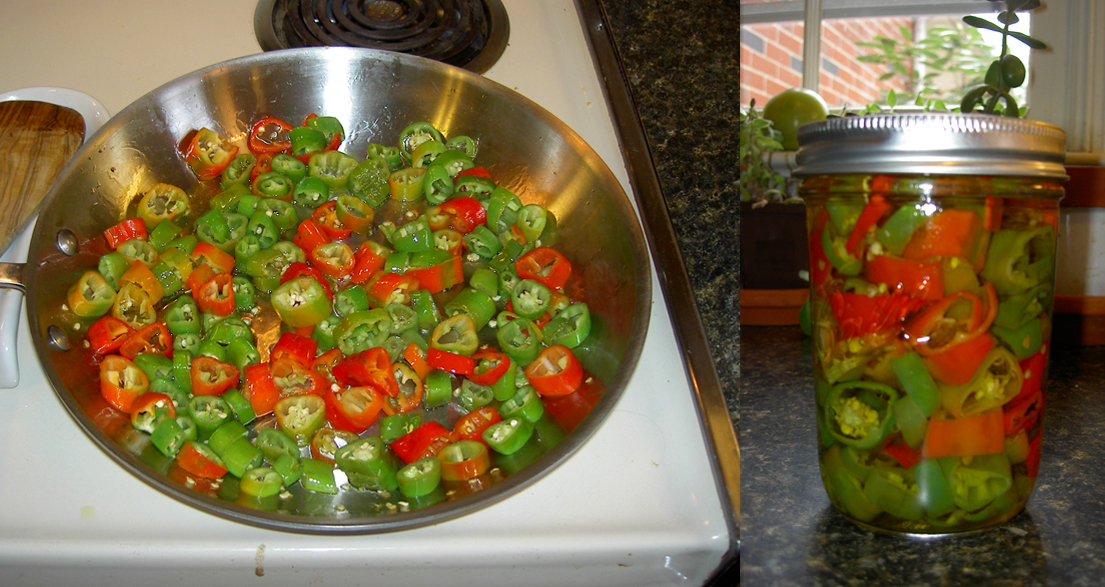 Italian sweet peppers, sautéed and covered in oil (for the fridge).
With both our winter and summer CSAs, I have been most challenged by the abundance of peppers. Bell peppers are manageable, as we generally just slice and eat them raw or include them in ratatouille. It's the hot peppers and the less common sweet peppers that pose a challenge. Some of them we sauté and pack in oil to be used in making pepper rice; sadly, most of last year's batch languished in the fridge and had to be thrown out after we just didn't cook as consistently through the winter. Others, like jalepeños, we struggle to use in even small quantities let alone in the volume that we receive in from the farmers; most years they go into the chutney and not much else.
This year we worked hard to use what we got, which required us to add to our recipe roster. To use up the jalepeños, I made two large batches of corn salad (which also used up a couple dozen ears of corn as well as onions and tomatoes) and one batch of tomatillo salsa (which was tasty, but more than we could handle in the time period before the fresh salsa went off; it did mark the first time we successfully used our tomatillos, though). The corn salad was delicious, and we'll definitely make that in any future years when the corn is flooding in. In the end, we had more jalepeños than we could use and I donated some back into the CSA swap box. The green chilies were a big hit, though: we received Anaheim peppers for the first time, and learned that they are the green chili beloved by those who love green chili sauce. A little online research provided us with the preferred skinning method (place in a plastic bag to cool after roasting; the steam will loosen the skin) and we were able to make use of them. We made chicken in a tomatillo sauce twice, channa masala once, and I made my first batch ever of green chili cornbread. The cornbread was probably quite a bit hotter than it was meant to be since I used both rice milk and tofu sour cream: the fat from the dairy products was therefore only present in the cheese. I loved it, though, and we shared a pan for dinner one night.
Kicking off the Dark Days Challenge this week, I still had peppers in the fridge. We were looking at a large bag of Italian sweet peppers and about a half dozen Cubanelles. For the Italian sweets, I fell back on last year's plan (sauté and pack in oil in the fridge) with a resolution to actually use them this year. I incorporated the Cubanelles into the meal for Week 1 of the challenge: scrambled eggs with roasted Cubanelle purée and roasted potatoes. Yes, it's a breakfast meal, but we had it for lunch. We sourced the food as follows: organic eggs from a Pennsylvania farm via our local organic market; Cubanelle peppers from our summer CSA and Thanksgiving Farm via the Greenbelt farmers' market; red potatoes from our summer CSA; seasoned salt from last year's winter CSA; and last year's home-canned applesauce with apples from Larriland Farm. Roast peppers, peel and chop coarsely (I didn't actually bother to purée them); dice potatoes, toss in olive oil and seasoned salt, roast at 425F for 40 minutes, stirring halfway through; and scramble the eggs. Serve and eat!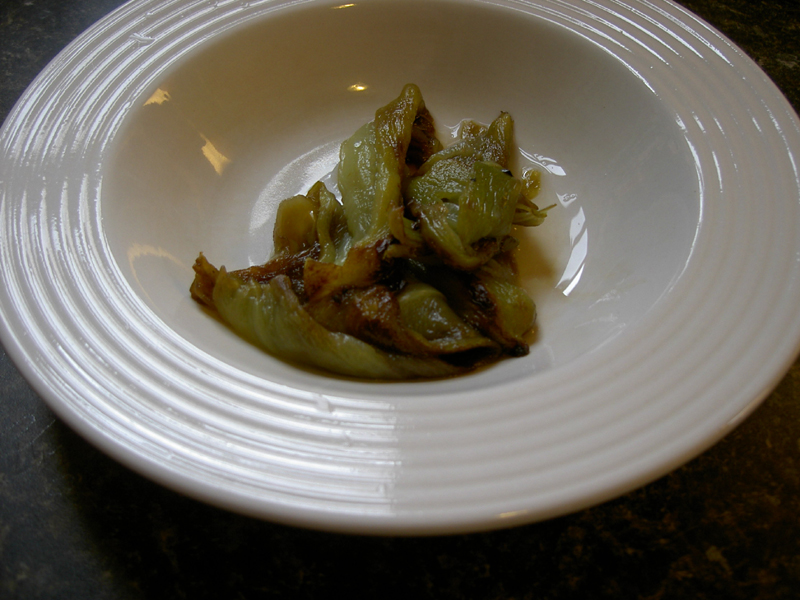 Roasted peppers.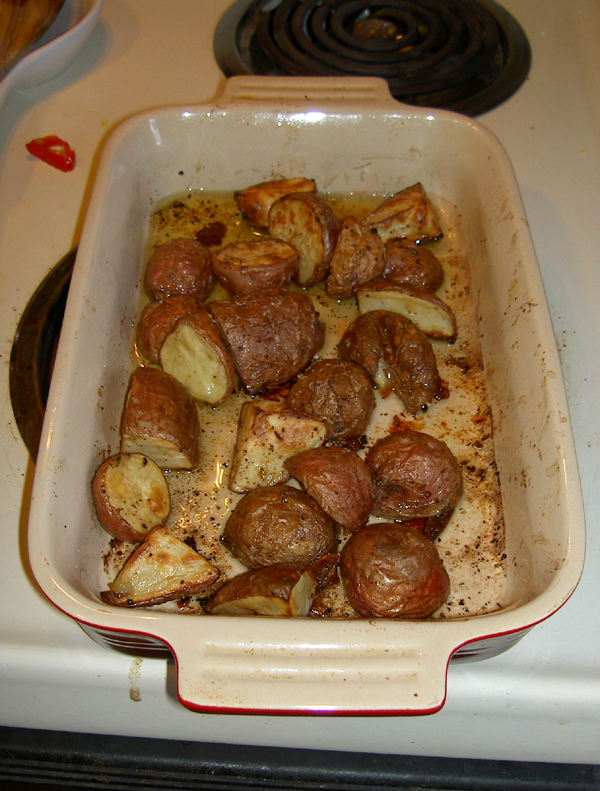 Roasted potatoes.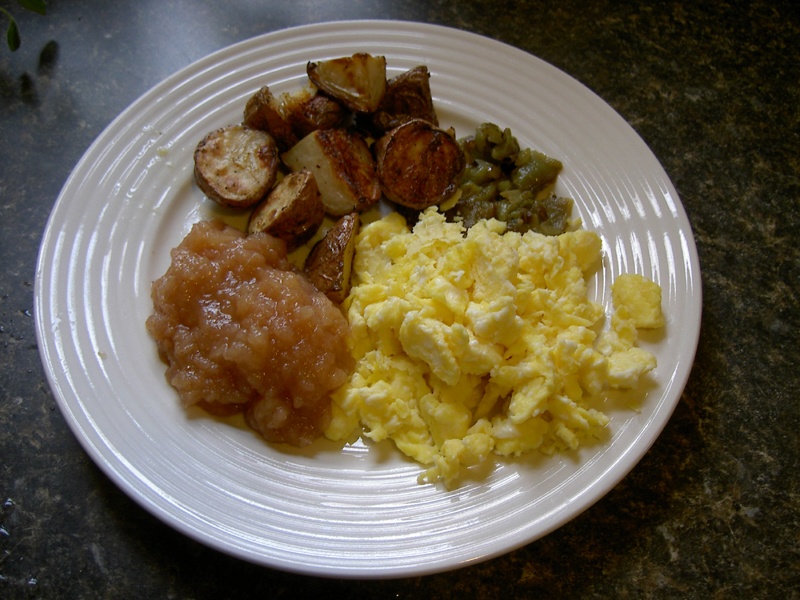 Lunch: scrambled eggs, roasted Cubanelles, roasted potatoes, and applesauce.