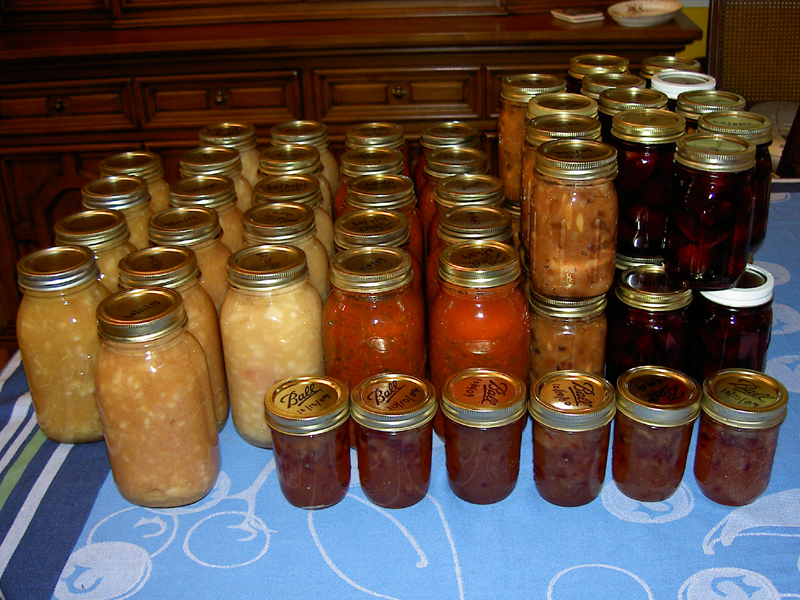 Applesauce, tomato sauce, pear mincemeat, and pickled beets, with spiced pear jam in front.
A couple of weeks ago, we spent an afternoon at Larriland Farm, where we picked our own bags of Stayman apples (48 pounds), beets (20 pounds), and Roma tomatoes (30 pounds). I also bought three smallish pie pumpkins and a box of pear seconds. This last was from Catoctin Mountain Orchard, where we'd hoped to pick apples and were disappointed to discover they were only sold pre-picked from the store (thus the trip over to Larriland). My plan was to turn all of this into canned goods, that we'd eat through the winter while marveling at my foresight and dedication to our tastebuds. Okay, maybe not the last bit, but making the food last a good long time was definitely the plan.
The first day, I made tomato sauce from Barbara Kingsolver's recipe from Animal, Vegetable, Miracle. The sauce was tasty (we had enough left over for a meal that night), and I have 10 quarts of it to look forward to eating over the next year. I have 10 quarts of it because…well, because the 30 pounds of mostly Roma tomatoes I picked were apparently much denser than the 30 pounds of tomatoes she calls for in her recipe. So I had two big pots of sauce simmering down, which were then combined into one big pot, which was then augmented with another 1/2 recipe of spices, and finally simmered down to 10 quarts. It's not only that my 30 pounds was more voluminous than her 30 pounds, it was also that I puréed the tomatoes by putting them fresh into a food processor, not by cooking them and straining them and then putting them into a food processor. So whatever liquid was in the tomatoes was in the pot waiting to be cooked off. Nothing I've read says that the way I did it was wrong, and I still had a half recipe more than projected, so I'm thinking the larger factor was having all Roma tomatoes. At any rate, come on over for pasta!
After the tomatoes were dealt with, I proceeded on to beets. Over the course of the next three days, the 20 pounds of beets became 19 pints of pickled beets (technically 21 pints, as two went into the fridge and we ate it right away). While this works out to about one pound per pint, the recipe was in cups of sliced beets so it was a bit…exciting…to figure out how many were needed for each batch. In the end, I just boiled pots of beets, skinned them in cool water (much easier than peaches, or tomatoes for that matter), and stored them in the fridge until they could be sliced and pickled in 10 cup increments. I used the Ball Complete Book of Home Preserving recipe, and had to double the amount of liquid to fill the five pint jars per batch. (I found that if I stored the extra beets and liquid from the first batch, and added them to the pot at the end of the second batch, two batches made 11 pints.) Don't ask me why; maybe my pot had too much surface area, maybe I boiled it too vigorously for too long. Whatever the reason, I needed more liquid (which is how we ended up with 2 pints in the fridge in the first round). Before I started I considered making a variety of flavors of pickled beets, but in the end I stuck with the regular kind, figuring that everyone knows and likes the familiar taste so why mess around with it. So, come on over for pickled beets!
The other major effort was turning the apples into applesauce. These Stayman weren't particularly great, sort of mushy and not as tart as I remember from previous years, so my plan was to combine them with a few Empire apples (from my market friends at Harris Orchards) and make them all into sauce. About 12 pounds of apples goes into four quarts, and with the combination of the two kinds I had plenty for four batches with some left over. I started off following the Ball recipe, but quickly abandoned it as it uses far more sugar than I like. (It also calls for a tablespoon of lemon juice for each quart; I forgot to add it for one batch, which led us to do some research and learn that the USDA does not require lemon juice for canning apples, as all apples on the market are acidic enough to safely can using the water bath method. I still added the lemon juice to the last batch, but don't worry if the recipe you have doesn't include it or you forget.) The first batch I made with half the amount of sugar and some cinnamon, and it came out way too sweet (I'm sure my partner will slurp it up like the candy it is). The second batch I made with only 1/2 cup of sugar, the way I like it, and the third I made with more cinnamon (2 teaspoons) and 1 cup of sugar (which still made it a very sweet dessert sauce). The last batch was back to the 1/2 cup, and the apples were old enough by that point that even the added lemon juice couldn't keep them from browning up quickly. It still tastes fine, but doesn't look as nice in the jar (which destines it for early consumption). Now that the sauce is out of the way, I'm looking forward to another round of tart apples (such as Granny Smith and Braeburn) to make into other things, like chutney and mincemeat.
Speaking of mincemeat, that's what I made from the pears. Two kinds of mincemeat (one with rum and currants, and one with port and regular raisins) both from the Ball book. The pears were overripe and very juicy, so I'm not sure that the consistency is quite right on the mincemeat, but they both tasted delicious (if a bit overly sweet; for a person with a sweet tooth, I seem to be at the low-sugar end of the range). I'm sure they'll be a hit at Christmas, and their beef-free status makes them worth their weight in dried fruit. These two recipes were also by volume (10 cups of chopped pears each) rather than weight, and I neglected to weigh the fruit ahead of time, so I don't actually know what we acquired for our six dollars. Enough to make 8 pints of mincemeat and another 7 half-pints of jam. The jam was the first attempt at using pectin, and I have mixed feelings about it. On the one hand, the jam gelled up beautifully. On the other hand, the jam seems cloyingly sweet to me, although that's somewhat cut when it's actually on toast and not just being taste-tested from a spoon. It's a nice recipe, though, with cinnamon and dried cranberries for a bit of a spicy-tart undercurrent. Of course, as soon as I'd used all the pears this way, a friend pointed out that Elise put up a pear butter recipe at Simply Recipes, so I'm tempted to get another box of pears and make pear butter next week. The downside is that it involves cooking the pears then putting them through the food mill, a process that I generally dislike. The upside is that it looks delicious!
Now, I just need to cook, purée, and freeze the pie pumpkins and the kitchen dining room will be cleared and ready for the next round of apples. Just as soon as I find a place to store all the filled jars.