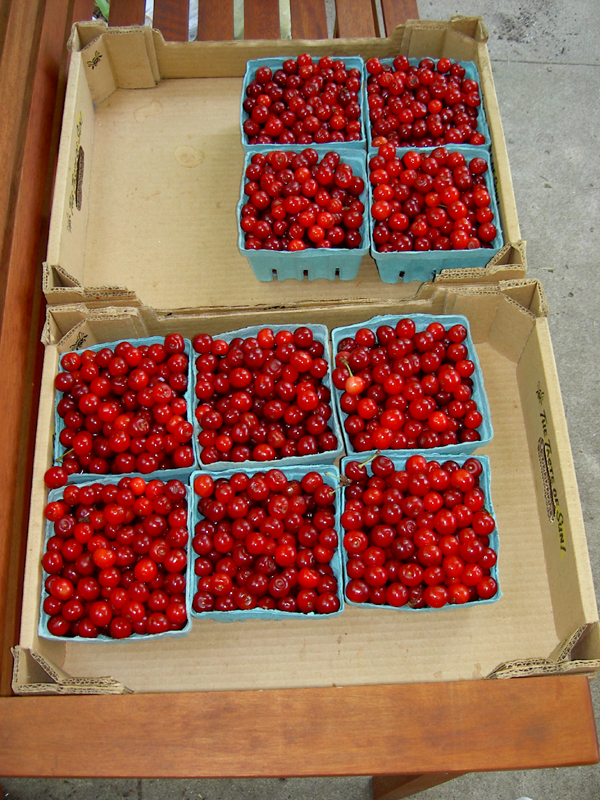 Cherries on the porch.
This is the time of year I've been waiting for: sour cherry season! I like sweet cherries fine, but you can't bake with them, and it's the sour cherry baked goods that I love. Pie, mainly, but also strudel and turnovers and muffins and croissants and danishes. When they're well done, that is; there's nothing I like less than a chemical-tasting dyed imitation of any of these fine products. Which is why I was so excited to discover a local source of sour cherries—besides the backyard of a woman I know, whose sour cherries are already spoken for—so that I can make all these things myself.
My first cherry pickup was ten quarts. That seems like a lot when you're pitting and storing them, but really isn't that much when you think about all the stuff you want to make with them. Including a recipe that I found online for something in between chocolate cake and brownies filled with cherries, which was absolutely mouthwateringly moist and delicious (I think all the naysayers must have just used sweet cherries, which we all know are for eating not baking). And jam. How could I forget jam? I didn't forget jam, I just neglected plan for jam in the first round. Which meant that this week I picked up even more sour cherries at the market and continued the pitting through the week. Jam-making will be today (and possibly also tomorrow, depending on how many more cherries are available at today's market). I plan to use David Lebovitz's no-recipe recipe. While I'm making jam this week, I may as well also try the Cherry Walnut Conserve in the all-purpose Ball canning book, right? I mean, she gives me a discount if I buy in bulk, so it's better to get more quarts than fewer. Having cherry jam in the dead of winter will make all the pitting worthwhile!