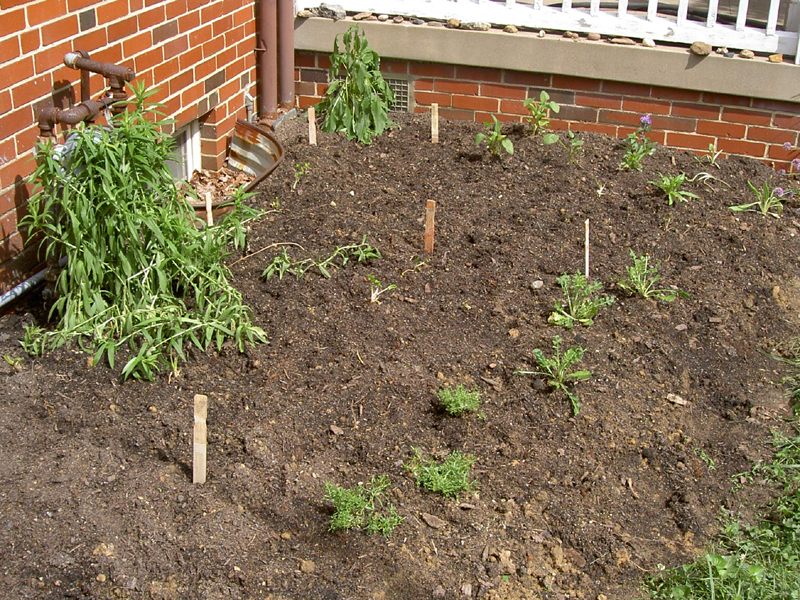 The front flower bed, newly planted.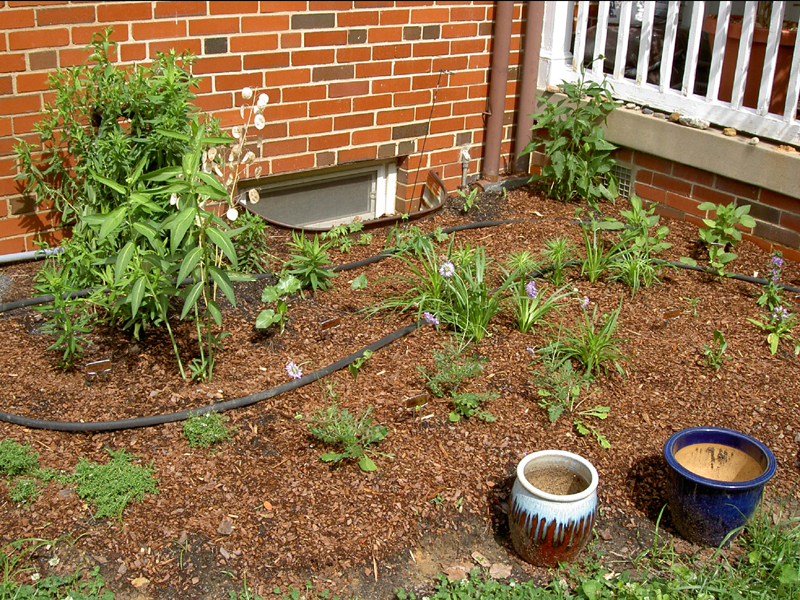 The front flower bed, one month later.
A month after planting the foundation bed with flowering perennials, we're seeing all kinds of growth. It doesn't look like a mature flower garden yet, but it's showing signs of how it will be when it fills in. When the plants first arrived, I was disappointed; I had expected all of the plants to be in pots and all of the potted plants to be larger. Now that the bare roots have sprouted, we've been able to tell which had crown rot and need to be replaced and which are likely going to survive. I probably should have been prepared for how scraggly it looks with just sprouts, but I have never done this kind of planting before.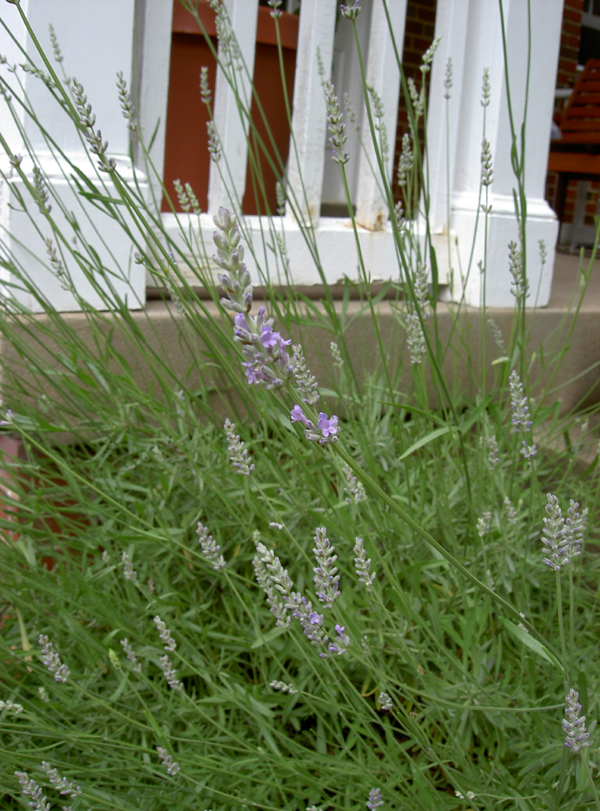 Lavender buds just opening.
In terms of flowers, the bellflowers were coming into bloom when they arrived, so they have been a nice splash of purple. The scabiosa took off, and they are also sprouting multiple pale purple blooms. While lovely, neither is the true blue that was advertised, and everything looks washed in purple with the lavender in full bloom next to the bed. The butterfly weed grew like, well, a weed, and several of the shoots have developed flower buds. I look forward to that splash of orange or yellow color. The dwarf aster bloomed as well, and I can't remember whether it was supposed to bloom this time of year or whether it was just early because of the planting schedule. And, the small rudbeckia on the other side of the steps has bloomed, and looks quite cheery in that dark little patch. Besides those, everything else is still in the sprout stage; I'm not sure I'll get any daisies at all this year at the rate they're growing. I remind myself that it's barely summer, and there's plenty of time for them to shoot up and get established.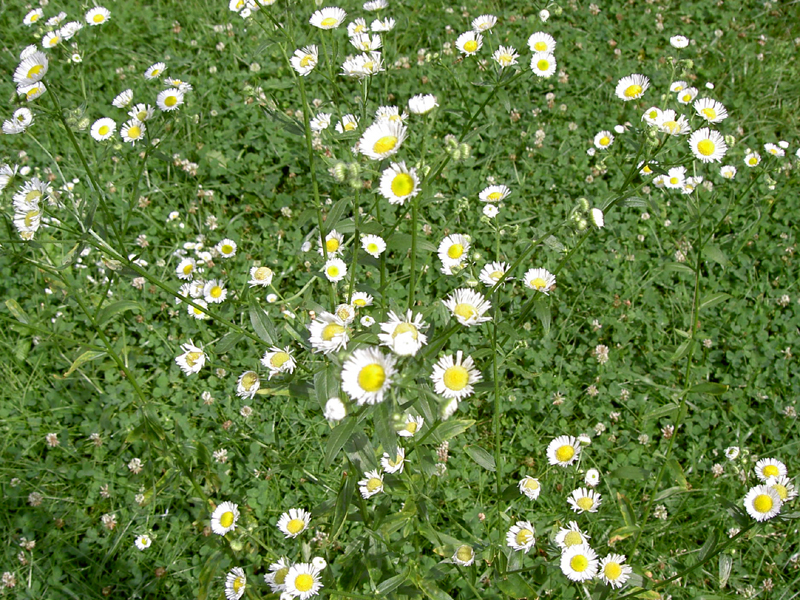 The volunteer aster.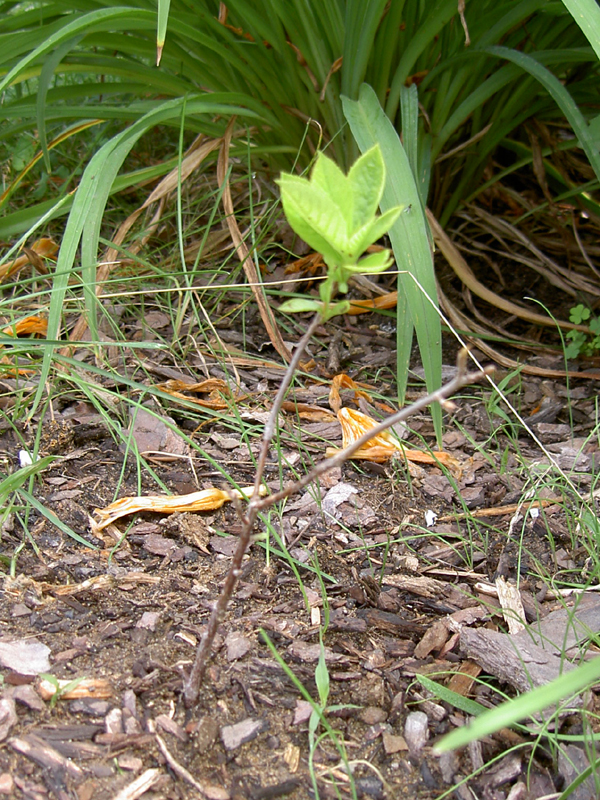 Leaves on the clethra.
Elsewhere around the front yard everything's loving all the rain and heat. The clethra now has a full set of leaves, and we're hoping to see more shoots once it starts actually photosynthesizing. The aster that I left unmowed has bloomed all over with lovely yellow-centered white flowers. I kind of like it as an outpost at the property line, but I'm under some household pressure to relocate it into the flowerbed. The monarda has grown significantly, and now has a healthy colony of predator insects eating the healthy colony of aphids that discovered it within the first days of planting. It hasn't bloomed yet, but I'm hopeful. The daylilies are bursting out all over, of course; they love this climate and have been reveling in the rain. I had been thinking of phasing them out in favor of more natives, as I wasn't sure anything found sustenance in them; I've since seen some insects eating the pollen and at least one butterfly—possibly a Delaware skipper—drinking from a bloom.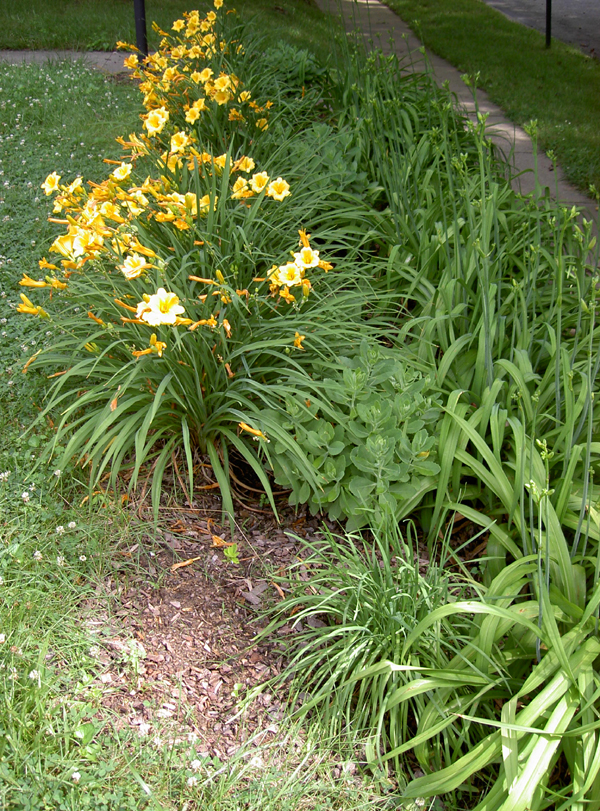 The daylily bed, with the clethra in the lower left corner.