I'd known from the time we moved in that I wanted to paint the dining room two shades of yellow, but it took a long time to find the colors that matched the image I had in my head. In the end, we went with 'Golden Yellow' on the upper section, and 'Bicycle Yellow' on the bottom half (both from Ralph Lauren, much to my chagrin). We did the actual painting in December, finishing up just in time for our housewarming party on the 17th.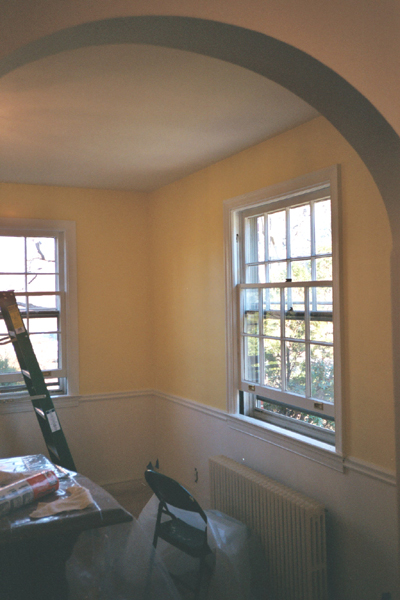 Dining room paint job, upper half complete.
Halfway through the first coat, the upper yellow looked really dark, next to all the white on the other walls. We had some challenges with this paint, as one gallon wasn't mixed properly, and had little clumps of pigment floating throughout. Rather than taking it back (the choice I will definitely make in the future), we mixed the two gallons together and then smoothed, smeared, and picked out with toothpicks the clumps of pigment as they appeared on the roller and walls. As a result, we suspect that the walls are lighter than, and not a true match with, the intended color. We like it this way, though, so it worked out well.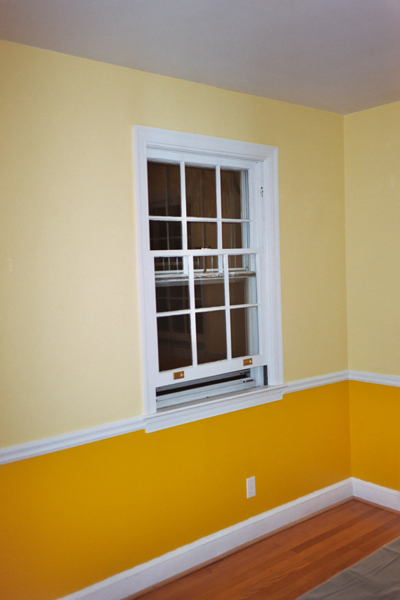 Dining room paint job, front corner.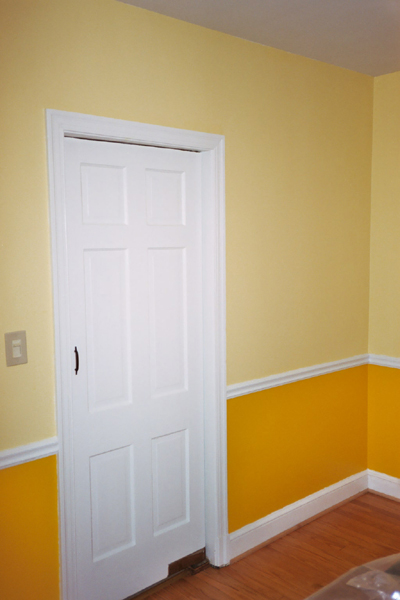 Dining room paint job, door to kitchen.
Particularly when I was just starting to paint the lower section, the yellow looked really brassy, and notably more green, compared to the yellow on the upper part of the room. Again, it looked the worst when I'd only edged it; once the third coat went on, it looked pretty good. We're used to it now, and of course much of it is blocked from view by furniture, a ficus tree, and paintings. Nonetheless, it's still quite bright, and it's lovely in the morning with the sun coming in that side of the house.
Completing this room has had the unforeseen effect of making the rest of the house look very dull. I'll get to work painting the living room just as soon as I pick a color.